Introduction to Fencing with the Medieval Longsword (Longsword 101)
Four-week training program
Join San Diego Longsword, Chivalry Today's historical fencing program, for a four-week workshop focused on the basics of medieval swordplay.
Spring Break is upon us, so we won't be holding an Introduction to Longsword course in April! Our next Intro to Longsword four-week workshop will be held on Thursdays, 5 to 6 pm May 4, 11, 18 and 25.
All classes will be held at LionHeart Academy in El Cajon, in the "rear fencing floor" area.
Looking for a new and interesting hobby that provides physical fitness as well as intellectual challenge? Then come and start the journey into the world of medieval swordplay with San Diego Longsword's Introduction To Medieval Longsword Fencing (or "Longsword 101") and discover the excitement, subtlety, finesse, and camaraderie of this wonderful fencing art!
Wait! "Subtlety and finesse" in medieval sword fighting??? Surely this is a style of swordplay that's all about smashing and bashing, and can only be practiced by massive warriors like Henry Cavill and Arnold Schwarzenegger! Right?
Actually … this fencing art is all about defeating fighters who rely on nothing but brute force and untrained power. The great master of this art stated that the successful swords-person "fights strength with weakness and weakness with strength," and that "if strength and speed were all that's necessary to win a battle, there would be no need to study the art of fencing." Our classes are perfect for those who never did too well at traditional sports, who aren't into heavy competition, and who just want to have fun and make friends. (Let's face it - anyone who wants to practice medieval sword fighting is, on some level, a sci-fi/fantasy "nerd" at heart!) We are a diverse group, where everyone is welcome, our goal is to have fun, and we train to any and every level of physical ability.
So how do you get started? Join Chivalry Today/San Diego Longsword's historical fencing team for a four-week all inclusive workshop focused on the basics of medieval swordplay.
This course provides detailed instruction in the basic elements of dueling/fencing with the longsword - it's a great place for beginners to start their practice of any medieval fencing art, and also an effective way for experienced fencers to get a deeper understanding of basic fencing mechanics.
Longsword 101 is a prerequisite for joining San Diego Longsword's "general training" class, Core Concepts In The German Longsword.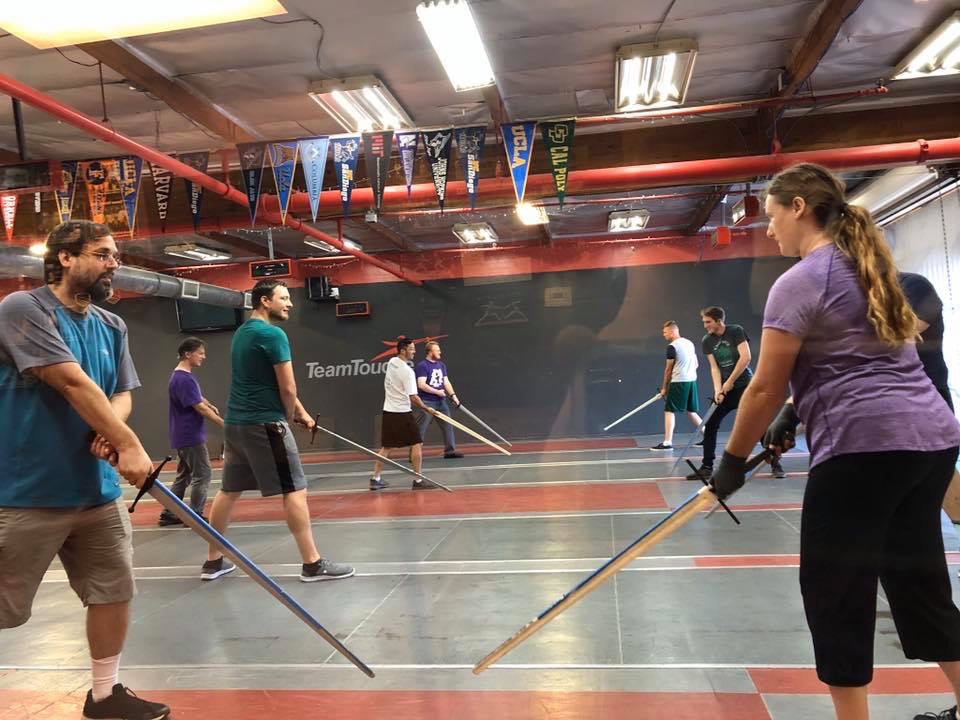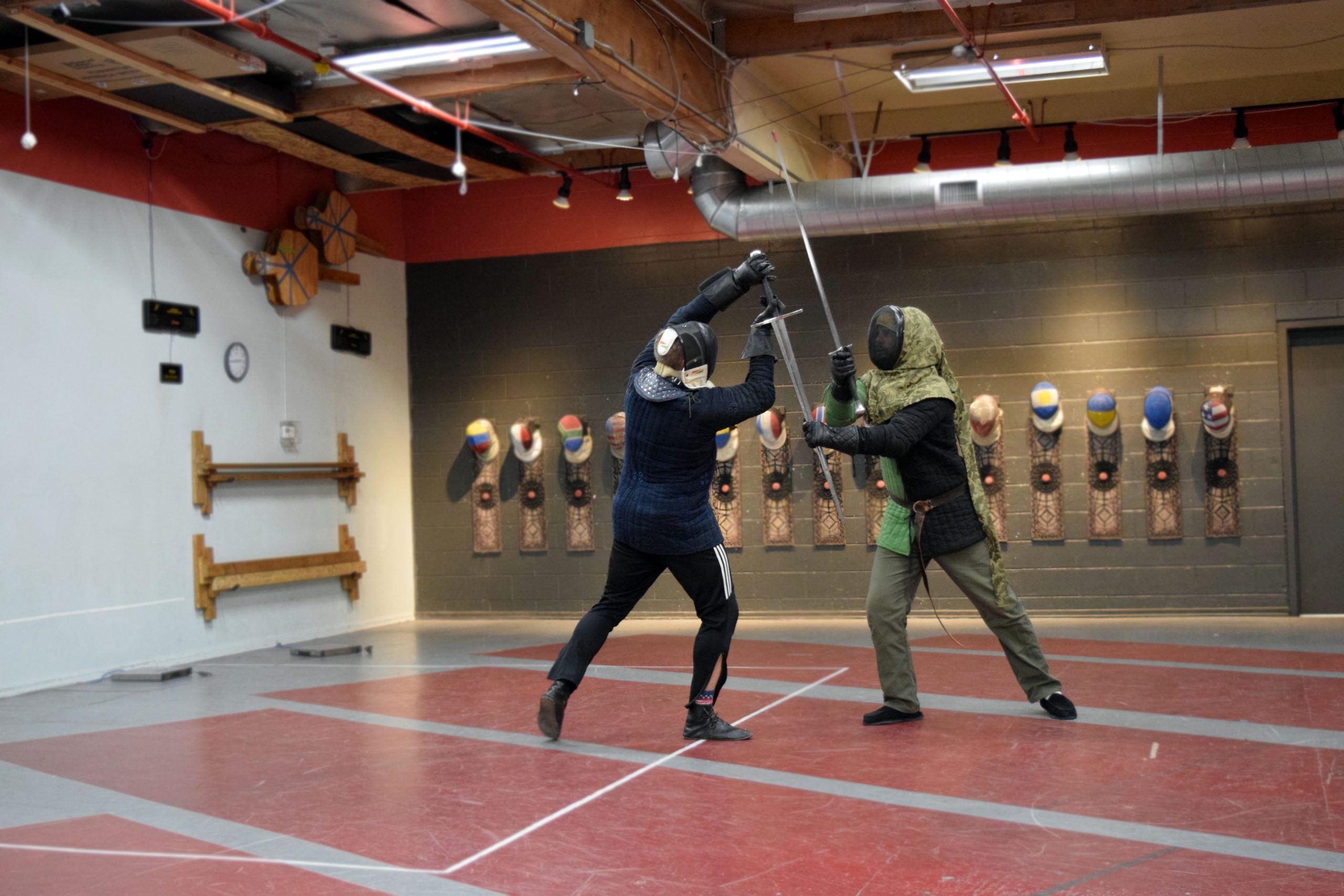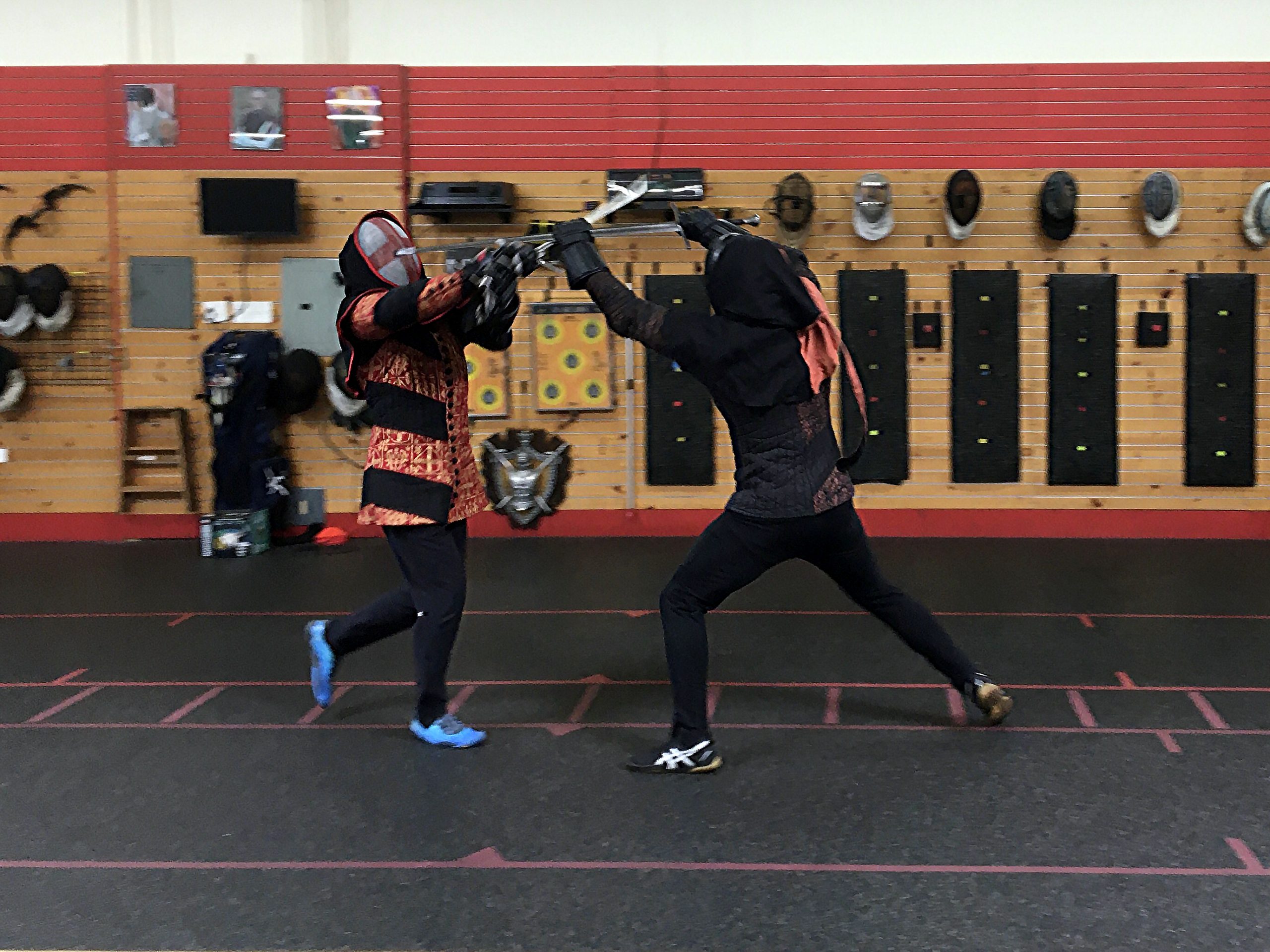 Frequently Asked Questions
Who Can Attend? 

San Diego Longsword HEMA sessions provide a serious opportunity to experience, and eventually master a complex, adaptable fighting art. When you join our HEMA program, you'll enjoy the mental challenge of learning this historical martial art, as well as the physical challenge of putting the art into practice along with fellow students through an increasingly complex series of lessons, exercises, and (eventually) free-play sessions.
Among the practitioners in our weekly sessions, we welcome:
Anyone who loves fantasy tales, who has imagined being a noble warrior or a "knight in shining armor";
Video gamers who want to experience the realities of the "power moves" they see on-screen;
LARPers and reenactors who want to bring a new level of historical realism to their activities;
Athletes looking for an interesting cross-training activity;
Actors and performers seeking an unusual, dynamic style of stage combat;
Anyone seeking an exercise activity emphasizing range-of-motion, coordination, and balance;
Teens, 16 and up, whose personalities aren't well-suited to the heavy competition pressures of other traditional youth sports – we keep the focus on learning, having fun, and making friends, rather than worrying about who is winning.
Why should I do this? 
Like those knights-in-training of old, the focus of San Diego Longsword is not just on physical skill, but also on the values of self-discipline, respect, trust, sportsmanship, and honor – the values of the code of chivalry!

Each session of San Diego Longsword is conducted in a safe, supportive environment under the supervision of Scott Farrell (director of the Chivalry Today Educational Program) and his staff of instructors.

Come join us for San Diego Longsword medieval sword-combat training – whether you want to learn to cross swords and spar with fellow students, or just get a low-impact workout through the range-of-motion physical techniques of the art of defense (it's like yoga with a sword). Classes for adults and youth/teens (10 and up) are held weekly!
Will I get to do a swordfight at my first class? 
Actual "sword fighting" (which we refer to as "bouting," "sparring" or "free play") is a complex training activity, which requires skill and experience in order to take part in.
Students in our Introduction to Fencing with the Medieval Longsword classes will focus strictly on solo work, not partner training. Understanding the basic mechanics of your own sword work is necessary before moving on to bouting, or any sort of partner training, in just the same way that (when playing music) learning to play your own instrument would be necessary before trying to play in a band. No protective equipment will be required for this sort of training, and we have "loaner" swords for students to use in these classes.
Students in our Core Concepts in German Longsword classes will be working with partners in training exercises, meaning they will be striking at one another, and as such, appropriate protective equipment will be required before entering this training group. (See our page on "required protective equipment" for all the details.) While we do not conduct "bouting" in this class, exercises will consist of structured drills meant to simulate certain aspects of fencing "free play" and prepare students for sparring.
Students in our Open Floor and Advanced Training sessions will take part in bouting/free play exercises, once they have completed the requisite "sparring authorization" with an instructor, and have their own full set of HEMA protective equipment. 
We know new students are eager to start swinging swords and experience the adrenaline rush of a "real" sword fight. (Although it is very important to realize that what we do here is a friendly recreational game, not real fighting.) However, we pride ourselves in training with, and practicing actual historical fencing technique, rather than just handing students a sword and letting them make do with whatever techniques come to mind. Think of our historical fencing classes as piano lessons: It's going to be a while before you're ready to play your first concert. However, students who are diligent and dedicated in their training can expect to be ready for sparring after about 8 to 12 weeks of practice. We want to ensure that when you're ready to take that step, you have all of the skill, training, and support necessary to make your first "real sword fight" fun, productive, and exciting, rather than frightening and confusing. 
What should I wear? What should I bring? 
For students in our Introduction to Fencing with the Medieval Longsword, San Diego Longsword provides all of the loaner equipment necessary to get you started! (Students who progress to Core Concepts in German Longsword classes will need to invest in their own set of personal safety gear before joining the group.)See our Recommended Equipment page for more specifics and details. 
To take part in the four-week class, students should wear comfortable athletic clothing. Closed toed non-marking athletic shoes are required for all attendees. Please, do not wear boots or sandals. 
I have more questions, how do I get into contact with you? 
Give us a call, shoot us a text, or send us an email and we'll be sure to get back to you as soon as possible! 
Phone: 619-742-2315
Email: Scott@chivalrytoday.com